There are a number of topics that we get asked about all the time.  These include: 
Autism and Mental Health
Food issues
Social Stories
Toileting
Sensory issues
Managing Meltdowns
Visual Aids
Sleep  –   to name just a few.
At the Toby Henderson Trust, we have an ongoing programme of FREE webinars available to all families that cover many of these topics.  If you are looking for some answers or support, take a look at our webinar pages (under Events & Training).
Need ideas to fill in the Summer holidays?
Alice, one of our Autism Support Specialists has pulled together a load of  information about Summer activities and places to visit.  We hope you find this helpful if you are looking for somewhere to go to entertain the kids this Summer.
Just click below for a list of activities and places to visit.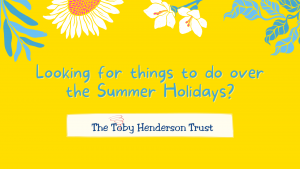 "My Motivators" Checklist
Often in our webinars, we talk about Motivators.  This key tool can help you to understand your child and helps to identify a range of items that can be used as key motivators.
The motivator checklist is the key tool in any parents' toolkit for managing and changing behaviours. Finding the best and the right motivators can help children learn that key behaviours are rewarded and then those behaviours are more likely to be repeated.
It is best if motivator checklists are completed with your child wherever possible but also not just within the immediate family but with school input and any other person who has a caring role with your child.
Further specific advice and guidance in using motivators is discussed in sleep, behaviour, eating, and toileting webinars.
SEND Glossary
We have found a useful document called 'SEND Reforms Glossary' which is a guide to language, terms and acronyms used in the Special Educational Needs and Disability Reforms. We often hear families say how overwhelming it is to not understand these terms and acronyms so thought it might be useful. Please click below.
Self Care for Children
Self Care is very important, and even more so lately.  Below we have a few ideas how to help children to help themselves feel a bit better.  We have been using these with our Siblings and MATES groups.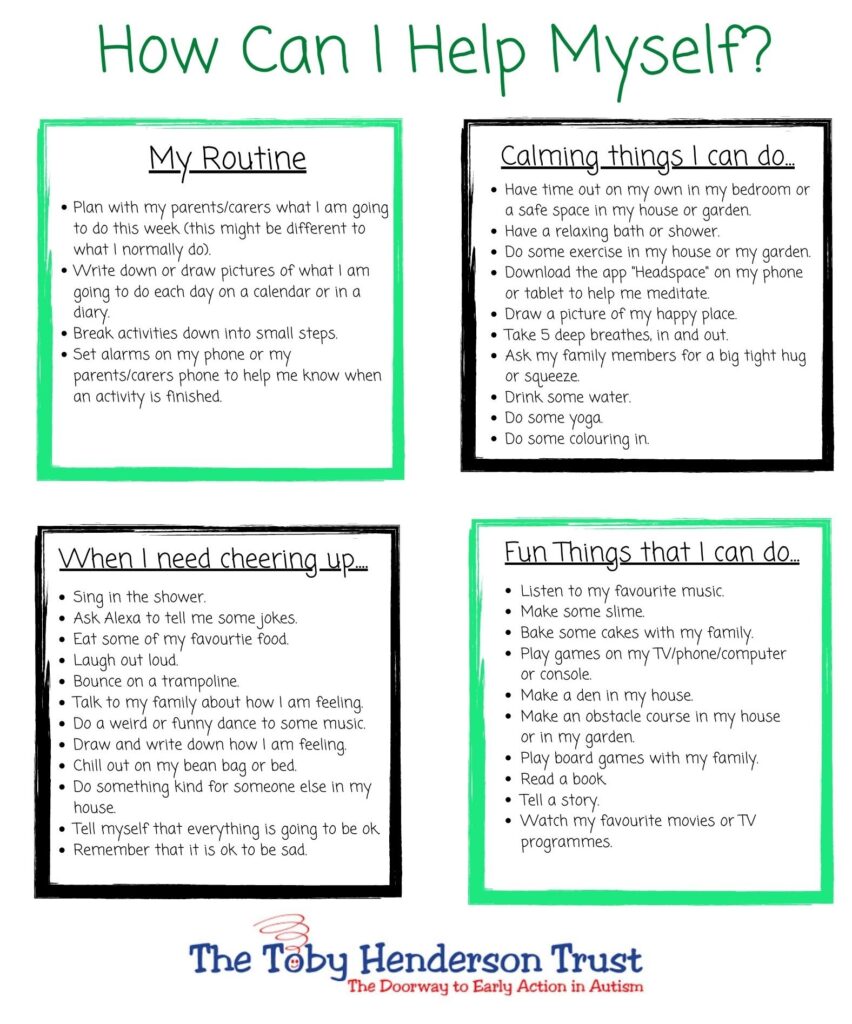 Managing Anxiety
Sam, one of our Autism Family Support Specialists has put together all of her favourite tips for managing anxiety by using some grounding techniques which can be adapted and used by the whole family.
What is grounding?
Grounding isn't ignoring or forgetting how you feel, or taking the emotion fully away, it's all about being able to tolerate the emotion and notice how you're feeling whilst being able to bring yourself into the here-and-now and out of an anxious or overwhelming state of mind.
These tips can be used by adults and children. Just modify them if needed and give them a go! You'll find one that works best for you.
5-4-3-2-1 grounding technique. This is where you engage your 5 main senses to help you feel more present. Wherever you are, find 5 things that you can see; 4 things you can feel/touch; 3 things you can hear; 2 things you can smell and 1 thing you can taste (this last one's a bit harder, so maybe have a cuppa as you're doing it or do it when you've just brushed your teeth!) It's even better if you can name them out loud, as it really allows the brain to take in the information more. You can simplify it in any way if you need to, especially for children.
5-4-3-2-1 with just visuals. This is a great one for both adults and children. With this one, name 5 colours you can see; 4 shapes you can see; 3 soft things you can see; 2 toys/books you can see and 1 person you can see.
Pick a colour or a shape and wherever you are, find everything that matches the colour/shape you've picked. E.G. if I choose the colour green, I can see two plants, trees outside, books, a cushion with green on and a green notepad.
Do an "ABC" around the room. Starting with A, try and name something in the room beginning with that same letter. This is a hard one, but really good as it makes your brain concentrate on the task even more, instead of concentrating on the overwhelming feelings you may be having!
Wiggle your hands or feet. Place your hands/feet on a solid surface. Notice how your fingers/toes move – do they move all together or separately? Does it feel funny? If you're wearing socks or shoes, how do they make your feet feel; are they comfy? If you're in bare feet, is it cold/hot? What does the surface beneath your hands/feet feel like?
A "Power Hug." Place your fingers on your shoulders, as if you're hugging yourself! Start with your fingertips on your shoulders and squeeze each finger individually on your shoulders. Then squeeze your hands on your shoulders. Then move your hands down and squeeze your entire arm, down to your wrist and back up again to your shoulders. This is a great sensory one too.
Box breathing. Breathing is really great for calming, as you probably know! Box breathing is where you inhale for 4 seconds, hold the breath for 4 seconds, exhale for 4 seconds and hold for 4 seconds. You can repeat this as much as you like. Also hold on to your belly as you do this; feel the breath fill up your lungs and feel your tummy as it rises and falls.
Tensing the body. This is a good one for those who find it hard to sit still! Tense up your body as much as you can (a safe amount). Squeeze your hands together; curl your toes; hunch your shoulders up to your ears, put your chin to your chest and squeeze, so it feels pressure but not hurting yourself. Hold this for 5-7 seconds and release. Do this a few times if you need to.
Use a sensory toy (for either children or you)! Use things that you/your child likes, whether it be kinetic sand; crazy foam; slime; aqua beads; a soft teddy etc. If the child is able to, ask how the toy feels and ask them to describe it. If they are unable to use their words, simply allow them to experience it as they use their senses to explore.
For adults/older teens, keep a journal. It's really great to physically write things down on pen and paper. As you're writing, envisage the ink flowing from the pen onto the paper in the same way that your thoughts are flowing from your brain, instead of the thoughts swirling around. Then when you're finished, either writing, doodling or whatever makes you feel good, close the journal and put it to one side. Buy yourself a really nice notepad and a pen so it makes it something enjoyable rather than a chore, and it becomes a really enjoyable habit to upkeep.
You could try apps like Headspace or Calm, which are meditation apps, but are easily accessible and easy to use. But these aren't for everyone! Headspace offers a 10 day free trial, so you could try it even for a week and see what you think.
Take a look at our YouTube video for more tips on how to manage anxiety.
We have a YouTube channel - keep an eye out for new video updates.