Supporting families at the AUTISM HUB in South Tyneside
Supporting families in South Tyneside in collaboration with Autism In Mind, the Autism Hub opened its doors in January 2020.
This unique, specialist lifespan service is being provided with the financial support of the South Tyneside Clinical Commissioning Group and the partnership with South Tyneside Council and it is free to all families in the area with a South Tyneside postcode. Please note: to access TTHT services at the HUB, you do NOT need to have a confirmed diagnosis.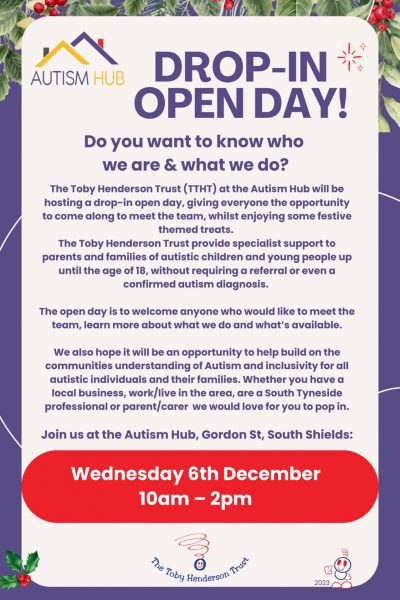 Drop-In Open Day
We would like to share that we are hosting a drop-in open day at the Autism Hub on Wednesday 6th December 10am – 2pm.
We would love to welcome familiar and new faces to help those in the South Tyneside community learn more about who we are and what we do whilst enjoying some festive treats.
We are also collecting for our local Hospitality & Hope Food Bank, based in South Shields.  Donations can be dropped off at the Autism Hub up to 6th December.
Thank you so much for your support.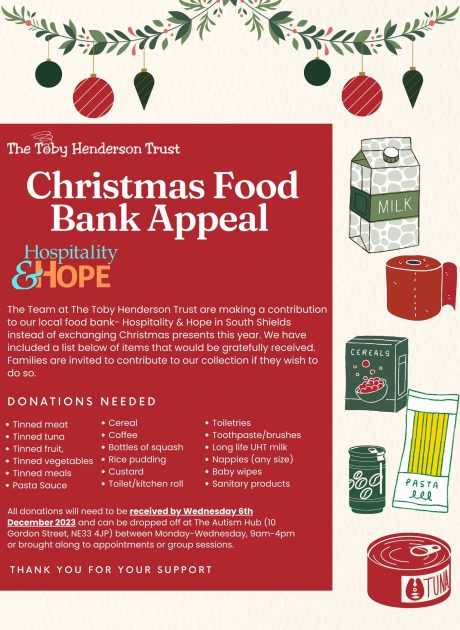 So, what do we do at the Hub?
The Toby Henderson Trust (TTHT) are at the Autism Hub Monday to Wednesday 9am – 4pm and provide specialist support to parents and families of autistic children and young people up until the age of 18, without requiring a referral or a confirmed autism diagnosis.
Services include 1:1 family support appointment, support groups, targeted webinars, a resource centre & most importantly a listening ear!
To find out 'what's on at the Autism Hub' this month, please go to our 'Autism Hub events' tab at the top of the page.
Families can get in touch as many times as they need, we are not a discharge service.
This is who we are
This is the Toby Henderson Trust Autism Hub Team.
Check out our 'meet the team' video, with footage showing us and our personalities.  The ethos of the whole team first and foremost is to listen so families feel heard.
We are here to support but we are also here so families have that place to go to have a cuppa, a hug if needed, feel safe, relaxed and offload, in an environment with a team that 'just get it!' We hope it makes you smile, enjoy!!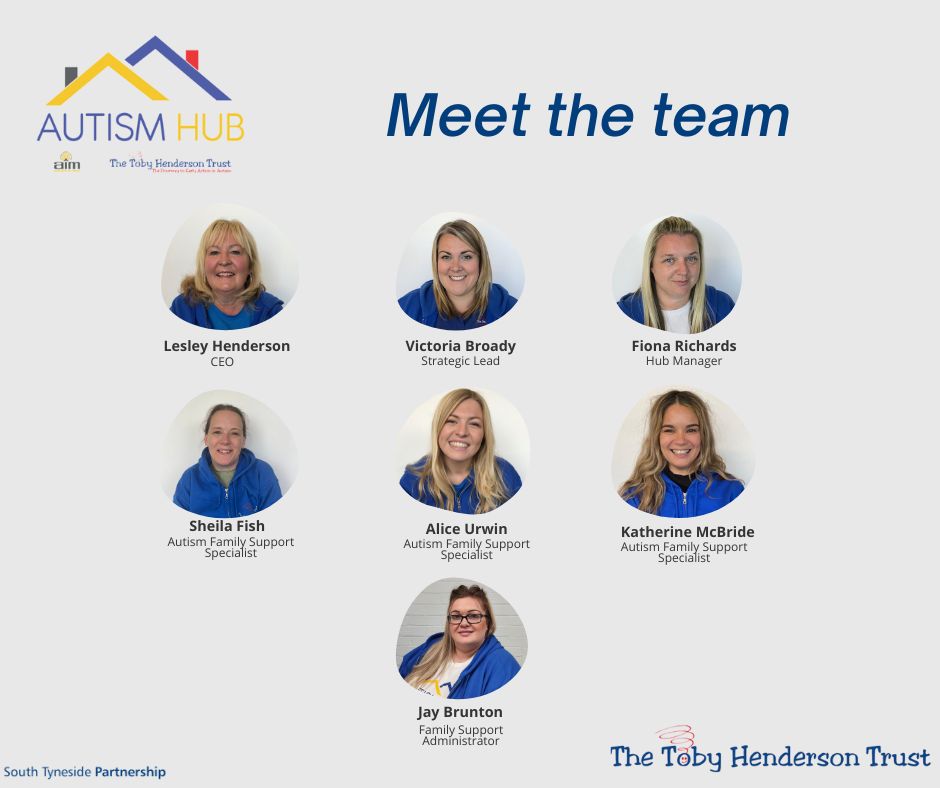 Could you work for us??
Due to expansion, we are currently inviting applications for the role of Autism Family Support Worker/Specialist to join an experienced and passionate team at our site, The Autism Hub in South Shields.  This role will encompass working with families to offer support throughout pre, during and post diagnosis.  Applications are invited from individuals with a solid background in family support with particular reference to autism.  Applications will close at 4pm Monday 13th November 2023.  Please click here for further details.
What Families tell us  …………
"I can't tell you how much it's been a great help to have someone listen and understand."
"Thank you so much! In 9 years, that's the most help I've had, your support is very much appreciated!"
"Today was so beneficial because I didn't feel judged or like I was mad so thank you for that. I really appreciate the support because I often feel overwhelmed and a bad parent."
What we offer…..
Our current service provision provides support to parents and families of autistic children and young people up until the age of 18, without requiring a referral or even a confirmed autism diagnosis.
Currently our services include:
Daughters with autism support group via Zoom
A grandparents guide to autism support group via Zoom
Targeted webinars. Please check out our Events and Training page.
One to one family support Zoom sessions
One to one family support telephone consultations
One to one face to face  family support sessions at the Hub
Face-to-face monthly Get Together for parents & carers at the Autism HUB 
Resource centre – containing copies of recommended books & other available local services/organisations.
A range of autistic specific resources are available on our website and are being continuously updated.
The Hub is  open between the hours of 9am and 4pm on Mondays, Tuesdays and Wednesdays.
To get in touch, ring us on 0191 816 0550
Alternatively, you can email us at autismhub@ttht.co.uk